We've sold 5 pieces! And have a request for a custom order on a 6th! This is so exciting! The stuffed animal paintings seem to be the biggest hit, with the butterflies a close second. We're scrambling to get everything ready to go - for some reason, I thought it would take longer for people to make purchases, but nope! They're buying away! I just love the thought of Ross's art hanging on people's walls - it makes me so happy having it here, I just know it'll make other people smile too.
Here's what we've sold so far: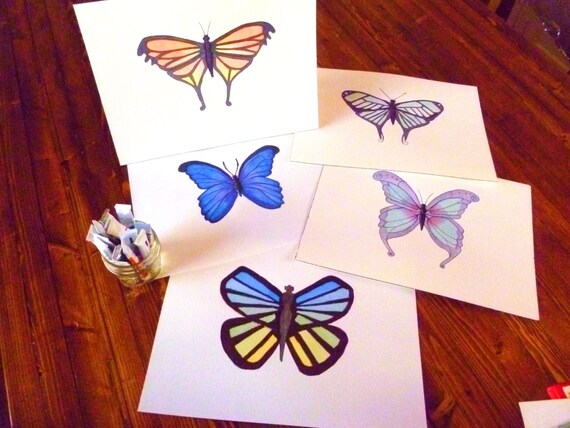 Butterfly Greeting Card Set
Penguin Painting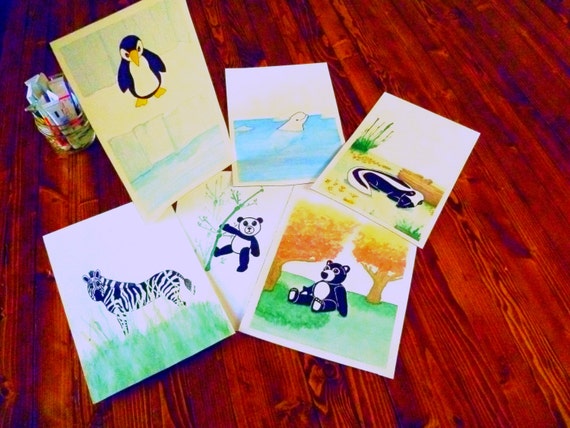 Animals Greeting Card Set
Blue Butterfly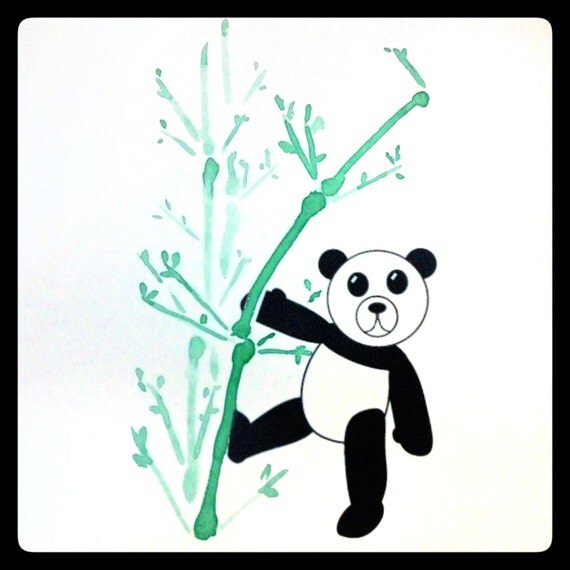 Panda Bear Painting
I've been having fun figuring out all the little nooks and crannies on Etsy. I started following several people; mostly family and friends, but also a few people who have excellent taste, like
Anastaisha
and
Denise
.
I also started using
Treasuries
, which is kind of like creating tiny little shops or museum displays. Hunt down items that fit into a particular theme, display them, and ta-da, mini-
Pinterest
! I have no idea which of the two came first, but I love using both of them to organize my ideas. So far I only have one treasury, called
Ooooh, Sparkly
, all about the things I would have loved, or did love, when I was younger and highly motivated by glitter. (To be honest, I would still buy all those things now, because I'm still highly motivated by glitter. And Neil Diamond).
It's also a lot like my Pinterest board called
Sparkly
. Like I said, glitter. I'm always amazed when people get upset about being glitter-bombed. That's a dream come true, not a weapon!
I'm working on another treasury called Hauntingly Beautiful (I know, it's stolen from an episode of
How I Met Your Mother
, but "The Pineapple Incident" is probably the best episode of that show ever. So there!) I had it all done, but I must've forgotten to hit "save" or something, because my description is there, but my items aren't. Dangit! I'll redo it and share it at some point.
Also, I think there's a chance I could get Ross into creating Treasury lists. He likes hunting things down, seeing threads of connection between things that others might miss, and really really loves things that contrast harsh and delicate in adept ways. That's kind of what he likes to do with his art, so it makes sense he'd like it when other people do it well, too.
He also got really into my
Pinterest
board called "
Ross Makes Things
." The second I showed it to him, he was off and running with ideas and critiques, so we may start adding wooden toys and other things to the shop sooner than later!
------------------------------------------------------------------------------------
I'm thankful today for being an adult. It means I can have pie for dinner if I want, which was exactly what I did want. Also, for Lysol. It was needed. Hot toddies with lots of lemon and honey and whiskey and Grand Marnier left over from Thanksgiving (we're getting sick around here - the kiddo is crying and being consoled by Ross as we speak). And for a job that lets me bring my kid to work when necessary without batting an eye. I'm so lucky to work where I do. Finally, I'm thankful that Ross turned on the heater. Seriously, the man NEVER does this. But today (probably because he's getting sick too), he did. Which means I'm almost warm for the first time in ages!